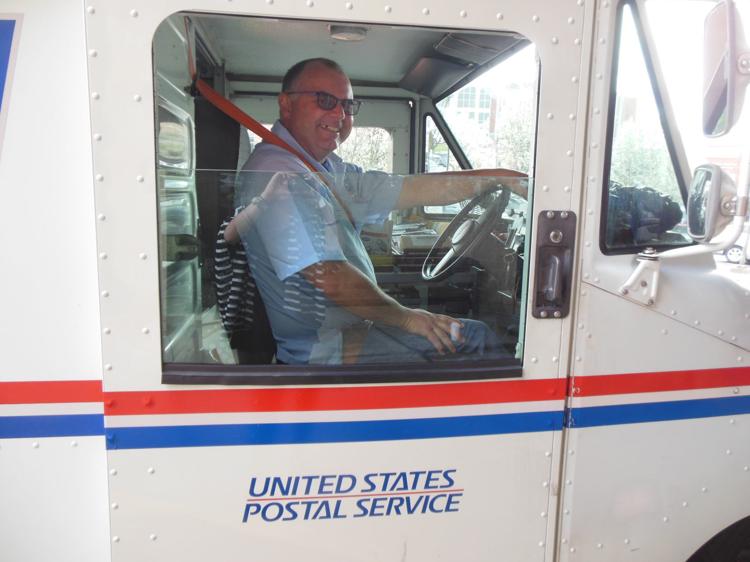 "Good morning, everybody!"
A simple phrase, but one that holds a lot of positive attitude and punch coming from local U.S. Postal Service carrier Dean Kysor, who has made his daily mail route his passion.
Kysor, who is originally from Corry, has been with the post office for 22 years, and has been on his current mail route for 16, he said, adding that the best part has been connecting with customers and making a difference in their day.
"It makes my job a lot easier when people know what to expect from me, and people trust me to take care of them," he said. "The day goes a little faster when you're having fun."
Many people may recognize Kysor from the Medical Arts Building at Penn Highlands DuBois, where he makes an enthusiastic entrance every day when he delivers the mail, saying, "Hello!" and, "Good morning!" to everyone he encounters.
Sherry Bachelier, a Penn Highlands DuBois Registration employee, has worked in the Medical Arts Building since it opened. The waiting room there is typically packed full of patients in the mornings, waiting to be registered for lab work or X-rays.
"It was always super busy, so he started doing it to make us smile and break the tension, but the patients seemed to enjoy his loud and funny 'good mornings,'" she said. "It makes them all smile, and the waiting seems like less of a big deal."
Kysor said when he is out in public, people even recognize him as the "Medical Arts mailman" who gives that memorable, "Hello!"
"They seem to remember it as a positive experience," he said.
It's the simple things like a cheerful greeting that can make someone smile, and that is what he aims for, Kysor said.
"Your outlook is more important than anything," he said. "Even when people aren't having a bad day, I like seeing a smile on their face. I have my bad days as well, but I try not to let it show in my attitude."
Outside of his job, Kysor is a committee member for Relay for Life. He and his wife, Cathryn, originally became involved in the fundraiser because she is a thyroid cancer survivor who has been in remission for about 15 years.
Being a part of Relay for Life is always uplifting, Kysor said, since everyone is supporting the same cause and working toward the same goal — to battle cancer together and raise funds as a team.
"You get to see the best side of people – the people who are fighting for their lives," he said. "I get to work with people who are fighting for the same thing that we're there fighting for, too."
Getting to know the customers on their mail routes is important for local mail carriers, Kysor said.
"Us knowing our customers is the most important thing in order to be able to take care of them," he said. "I tell everyone I don't deliver to customers anymore, I deliver to friends."