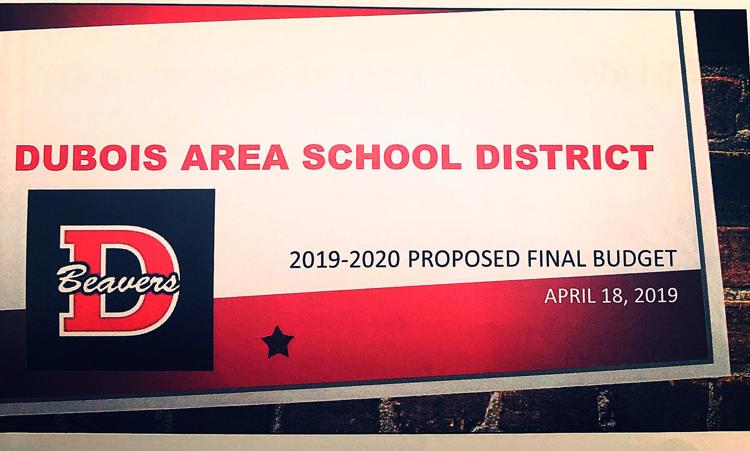 DuBois Area School District Business Manager Jeanette Buriak presented a 2019-2020 proposed final budget to the board at Thursday's work session, a non-voting meeting.
"The budget is the anticipated cost to educate the student from kindergarten to 12th grade," said Buriak. "By law, school district budgets have to balance. Revenues have to equal expenses."
The two key sources of revenue are local and state, said Buriak.
"Our local revenue sources make up approximately 45 percent of our revenue," she said. These include real estate taxes, earned income taxes, real estate transfer taxes and other sources.
"Local sources are the funds that are produced within our boundaries and are available for funding on day-to-day activities," said Buriak.
A large portion of the district's local revenue come from real estate taxes.
"When you hear talk about initiatives, or property tax reform in the nation you can see what kind of impact that would have on our school district," said Buriak. "If that would go away, the state would have to come up with some alternative to fund schools and their ideas have been things that have actually gathered that money to the state, and then they're going to redistribute it. And if the past is indicative of the future, rural school districts do not make out well when the state redistributes. So just keep that in mind when you hear about how great it would be to get rid of our property taxes. The state would be in almost total control of what our district would be able to do."
State revenue sources make up about 52 percent of the district's budget, said Buriak. Most of these are in the form of grants and subsidies and distributed through different formulas.
Federal revenue sources are the district Title accounts, which make up less than 3 percent of the district's revenue.
"These are grants that are received and they're program specific," she said. "These come with detailed reporting requirements that are attached to every program."
The district's proposed budget also includes many expenditures, said Buriak, noting there are 2,500 line items that the district budgets.
One of the largest categories under expenditures is instruction, which makes up 59.3 percent of the budget. Support services make up 33.5 percent of the budget, non-instructional, 1.5 percent, facilities improvement, 1.6 percent and 4.2 percent for other expenditures, which include debt service, interfund transfer and budgetary reserve.
Salaries and benefits make up 70 percent of the district's budget.
"There's a lot of salaries that are paid from our budget," Buriak said. "In December of 2018, we put out 747 W-2's. That's how many people we pay salaries to and benefits. That's basically a small community that makes this organization as successful as it is."
Twenty three percent of the district's budget goes towards contracts and obligations.
"These are things that we have very little control over," said Buriak. "Anything that we can reduce costs on we do, if we have a way to do it. Otherwise, these are the things we have no options. And that leaves us 7 percent of our budget for everything else."
Overall, Buriak said the proposed 2019-2020 budget represents a 1.4 percent decrease from last year's budget.
Buriak discussed the Public School Employees' Retirement System (PSERS), noting that the district cannot do anything about employer pension costs. They will continue to be a major factor in budgeting concerns, she said. This school year, the district's rate is 33.43 percent. Next school year it will be 34.29 percent.
"If we had the same wages this current year, 18-19, and next year, the same wages, we are spending $219,000 more for no more service," said Buriak. "That's $219,000 that's going to PSERS that doesn't get us one extra thing. In 2021, it will be 35.95 percent. That's just a projected rate. But if that would be the case, that would be $423,000 additional dollars based on the exact same salary that we would be turning over to PSERS."
Total revenues proposed for next year's budget are listed at $59,430,213. Total proposed expenses are listed at $63,801,658. The district will need to use $4.3 million out of its fund balance to balance the budget, she said.
On May 16, the 2019-2020 proposed final budget, with no tax increase expected, will be presented to the board for their approval. Final adoption of the proposed budget is expected at the board's meeting on June 20.