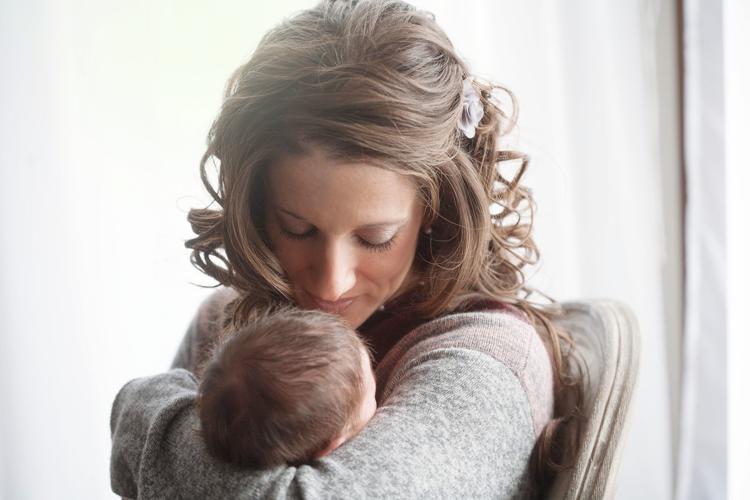 DuBOIS — Wendy Benton is known to most people in the community as the assistant superintendent of the DuBois Area School District.
But to her husband, Josh, her 4-year-old son, Hank, and her 22-month-old daughter, Julia, her most important roles are those of wife and mother.
To Benton, Mother's Day is a time to celebrate motherhood.
"It's the toughest, most important job that will fill your heart in a way you never knew existed," she said.
What she likes most about motherhood is the bond she shares with her children.
"It's a love greater than any other. My heart melts regularly when Hank refers to me as his 'precious lady'," Benton said. "No matter how stressful of a day I have had, there is nothing better than Hank and Julia running to the door to greet me when I pick them up."
Benton, 37, said she always knew she wanted to be a mother but only if she found a great father for her children.
"It took me a while to find Josh but while I was waiting for him, I was happy to focus on graduate coursework to further my career," Benton said. The couple married on Dec. 28, 2012.
Prior to coming to DuBois, Benton was an elementary teacher for five years, a high school assistant principal and athletic director for two years and a high school principal for three years in the Clarion-Limestone School District. As she progressed through her career, she realized that she could make a greater impact on educating children in a leadership position. It was also apparent to her that she needed to have a vast range of K-12 experiences to prepare her for a district level position.
Benton became the DuBois Area Middle School principal on July 1, 2013. In July 2016, she became the assistant superintendent.
"My mother always encouraged me to focus on my education first because the time commitment would be much more difficult to balance with children," Benton said. "Thankfully, I completed seven years of college coursework prior to having children. The eighth year of coursework, with a 1 year old, was well worth it but definitely a challenge. My mother was right."
Just prior to becoming the assistant superintendent in July 2016, the board underwent a transitional period and was searching for a new superintendent and Benton, pregnant with Julia, stepped in to serve as the acting superintendent.
She gave birth to Julia during this time and returned to work seven days later. Benton admits that presented challenges but she and Josh made the best of it.
"My husband assisted me in creating a make-shift nursery in my office so that Julia and I could be together and be as comfortable as possible," Benton said. "Julia spent a lot of time in a baby carrier strapped to my chest and my colleagues were incredibly supportive working with a newborn in the office. Fortunately, newborns sleep a lot so it was manageable. Julia rarely cried and was a pleasant baby. Her brother, Hank, to this day calls her 'Sweetieheart.'"
At the six-week mark, Julia was not quite as comfortable and the balance between career and motherhood was taking a toll on Benton as well.
"I knew it would be best for Julia to start to build a bond with her babysitter as well," Benton said.
Balancing a demanding career and motherhood is not always easy but Benton said she has been blessed with an incredibly supportive husband, family, friends, colleagues and school board.
"My husband is my number one. I waited 32 years for him and he is a selfless, compassionate, dedicated husband and father," Benton said. "He steps up every time I need him. Our family and friends also provide support and balance in life. Our mothers are especially gracious with their time and love for our children. Our friend, neighbor and babysitter, Missy Wayne, is like a second mother to our children. She loves our children as if they were her own and she provides phenomenal care and nurturing."
Benton said she also receives tremendous support from the school board.
"They are always conscientious of family time and encourage me to keep a balance between work and home," Benton said.
One important component to juggling a career and motherhood is that Benton never procrastinates.
"I begin shopping for Christmas for the next year on Dec. 26," she said.
She also tries to exercise every day but has learned to listen to her body and realizes that sometimes it is best to just take the night off.
Sometimes Benton has to remind herself to slow down and not to stress over the things she cannot control.
"It's important to spend time with your children but it's also important to make time to take care of yourself," she said. "The most difficult part of being a mother is finding a balance in life. Motherhood is not a competition. You don't have to be perfect to be a great mother. I tell my children, 'You don't have to be the smartest, the best athlete, or the most popular but I expect that you will be the nicest.'"