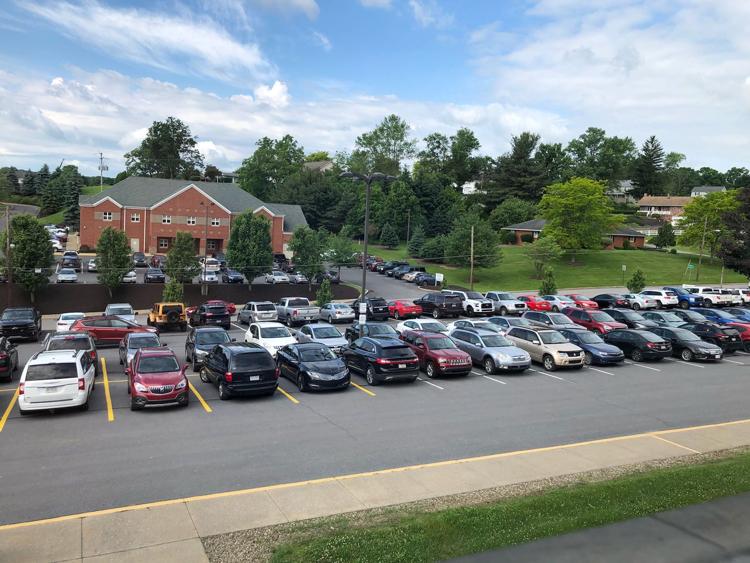 DuBOIS — Steven M. Fontaine, chief executive officer of Penn Highlands Healthcare, speaking at Friday's press conference outlining a three-year $111-million master facilities plan, addressed the issue he said he is asked about most often: Parking.
"Construction is always critical, but what do we do about parking?" Fontaine said.
Fontaine said a portion of the monthly meetings PHH officials have had with several board members, as well as the management and architect teams, is how Penn Highlands is going to accommodate the growth with parking.
"In our plan, we have two or three phases for this on this campus (DuBois) because this is the biggest issue with parking today," Fontaine said. "We're planning to build up to approximately 550 new parking spaces on this campus alone to accommodate a growing need. That will be phased in. As we get a little bit further down that path, we'll give you more details on that."
Fontaine said there will be the typical construction disruption, some inconvenience, some parking issues, other minor issues, "but it's all part of growth, unfortunately. But as far as disruption of services, no, we don't anticipate any."
By 2021, Penn Highlands Healthcare announced it is poised to create a Level III trauma center for the benefit of patients in the region.
For many years, Fontaine said, the trauma department of the Department of Health has asked Penn Highlands to explore the possibility of a trauma center.
"Because if you look at the trauma map in this state, there's a gaping hole in the quarter in which we serve, the Interstate 80 corridor," Fontaine said. "And so, by default, as I described earlier, a lot of folks with traumatic incidents have to go to Altoona because that's a level two trauma center. Anything beyond that is in Conemaugh and then in Pittsburgh, I believe."
"So it's very inconvenient and is critical to taking care of these patients in a timely fashion that we have trauma here and not to inconvenience families or loved ones," Fontaine said.
In approximately 2 1/2 years' time, to coincide with the Emergency Room completion, Penn Highlands should be completing that trauma application. The state does require that Penn Highlands partners with a facility that is already a level one trauma center.
The plan, to be implemented over the next three years, will modernize, improve and expand upon the services Penn Highlands Healthcare offers patients at its four hospital campuses (DuBois, Brookville, Clearfield and St. Marys) and numerous outpatient facilities in the 12-county region it serves.
It is expected to create approximately 400 jobs across the region over the next three years.