'Trust' and 'integrity' are important goals for Sandy Twp. police chief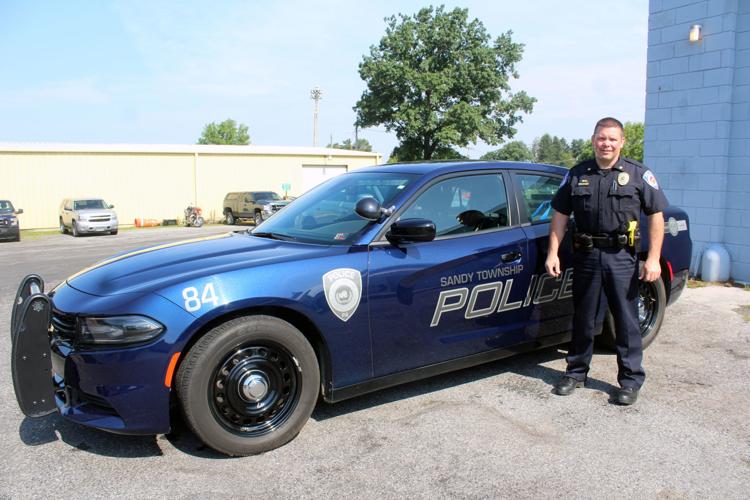 DuBOIS — Newly appointed Sandy Township Police Chief Kris Kruzelak promises to provide quality leadership in the community and within the police department.
"I want the public to have trust in the Sandy Township Police and know that they will be getting the best service possible with the highest level of integrity," Kruzelak said. "I want to ensure that every officer of the department and every resident of Sandy Township get home safe every night."
Kruzelak, who had been serving as officer-in-charge since the retirement of Chief Don Routch on Aug. 9, 2018, was hired by the supervisors on June 17. He officially took over the leadership role on July 1 after having spent the last 24 years working with the police department.
A native of DuBois, Kruzelak, 47, grew up just outside of Reynoldsville and attended DuBois Area Middle and High School, graduating in 1990. In 1996, he bought his first house in Sandy Township and has lived in the township ever since.
The desire to pursue public service started at a young age for Kruzelak.
"My mother was an ER nurse for many years in DuBois," he said. "Listening to her many stories of helping people and the odd situations that she encountered intrigued me. This is where I probably inherited the trait of helping people."
While he was in high school, the popularity of COPS, a documentary television series that follows police officers, constables and sheriff's deputies during patrols and other police activities, also caught his attention.
"I could see what police officers do on a day-to-day basis and how that every shift brings something new and exciting," Kruzelak said.
And after sitting at the kitchen table and listening to stories from his uncle, a Pennsylvania State Police trooper, Kruzelak said he was then hooked on becoming a police officer.
Following his high school graduation, Kruzelak attended Penn State DuBois for one year before moving on to Harrisburg Area Community College for its Police Science program. Immediately after graduating from the Indiana University of Pennsylvania Municipal Police Academy, Kruzelak was hired by Sandy Township in 1995. He had also worked for a couple of years as a part-time police officer in Brookville in the late 1990s.
In 2001, Kruzelak was promoted to sergeant but what he considers his biggest achievement is being appointed the accreditation manager for the township police department in 2011.
"Accomplishing the work of achieving accreditation is something that only 10 percent of the 1,200 police departments in the state of Pennsylvania can say they obtained," he said.
The Pennsylvania Chiefs of Police Association introduced the Pennsylvania Law Enforcement Accreditation Program to the Commonwealth in July 2001. Since then, more than 300 agencies have enrolled and 117 agencies currently have attained accredited status. The township was first accredited in 2013 and then the PLEAC unanimously voted to re-accredit the Sandy Township Police Department in 2016. The department completed its re-accreditation process for 2019 earlier this month.
The past nine months of being in charge of the police department, with the support of all of the officers, enforced Kruzelak's desire to become chief.
"Every officer wants to work hard throughout their career to achieve rank," Kruzelak said. "After Chief (Bill) Beers retired in the early 2000s, Sgt. (Rod) Fairman and I were put in charge of the department for a couple of years as sergeants-in-charge. I took care of the administrative side of things back then and enjoyed the work."
Major concerns to be addressed
When asked what major concerns will be addressed by the township police department, Kruzelak cited the illegal drug activity.
"The drug problem in the DuBois area, along with all of Clearfield County, has increased significantly," he said. "Methamphetamine and heroin are affecting the whole community. Our officers are dealing with both on a daily basis and seeing a lot of calls stemming from those addictions."
Kruzelak said mental health issues have also increased, causing more officers' time being consumed by seeing that these people get the help they need.
"I want the community to be involved and invested with what is happening in Sandy Township by having open communication with their police department," Kruzelak said. "This starts by not being afraid to call the police if something doesn't seem or look right. Our officers are here 24/7 to answer calls for service."
Kruzelak said staffing of the police department is always a hurdle and making sure they have the resources and manpower to get the job done.
"Sgt. Fairman being assigned as our department detective has given us the opportunity for him to specialize in child abuse investigations and dedicate his time to ensure that these sensitive cases are handled properly and in a timely matter," Kruzelak said.
Build community relationship
When it comes to building a relationship with the community, Kruzelak said the most important tie to the community is making sure schools and children are safe while at school.
"Building the relationship with the kids and parents just by them seeing us at and in the schools builds the public trust that we are doing our best to protect them," he said. "I want the community to know the extra work that our officers are required to perform for the accreditation program is to ensure that we are being held accountable and transparent for following the high standards that have been set by the Pennsylvania Chiefs of Police. These standards, along with our policies, are continually being updated to follow all the Pennsylvania legal mandates and best practices in law enforcement."
Kruzelak said he is an avid supporter/fan of all DuBois Beaver athletic programs, mainly the football and wrestling programs.
"My father and I haven't missed a home football game in over 10 years," he said. "Having volunteered coaching in the DuBois Little League program for 15 years and DuBois football programs has given me the opportunity to meet many good kids and parents that I will cherish forever. Some of my best memories are from being involved in Beaver football and wrestling and the relationships with my coaches. Pete Morelli and Mike Johnson, my wrestling coaches, taught me the value of effort and hard work to achieve success."
Best part of working in township
Kruzelak said what he likes most about working in the township and DuBois area is that he knows a majority of the people on a personal level.
"Being in a small community, I have built many professional relationships that have lead into personal relationships," he said. "These relationships make it easier for the community to be more open with their concerns."
Kruzelak said working with the township's new manager, Shawn Arbaugh, has been great.
"He (Arbaugh) believes in the team aspect to get the job done," Kruzelak said. "His progressive thinking and passion to better build the township has been inspiring. His work ethic to get the many tasks that he has going on and his commitment into the police department's needs proves his dedication to hard work."
The new police chief also said that the officers who serve the township make it easy to come to work every day.
"Having the team effort of the officers within the department gives me confidence that Sandy Township residents are in good hands," Kruzelak said.